Looking for dog-friendly spots around? Here are our faves!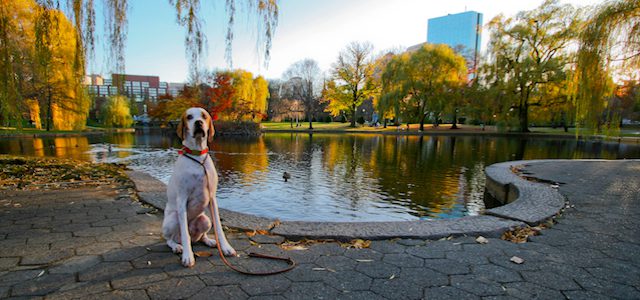 Summer fun awaits you and your furry friend in Boston and beyond! Check out these pet-friendly hotspots for an unforgettable adventure:
Take a stroll along the beautiful Charles River Esplanade and let your furry companion soak up the sun.
Looking for some off-leash fun? Head to Peter's Park in the South End, where your four-legged buddy can make new friends and enjoy a game of fetch.
Visit Castle Island where you can walk around Fort Independence. Close by, Carson Beach is dog friendly from September 16th to April 30th #PawsIntheSand
Spend a tranquil day at the Boston Public Garden, where leashed pets are welcome. Enjoy a picnic under the shade and let your furry friend explore the beautiful surroundings. 🌸 #BostonPublicGarden #PeacefulRetreat
Does your feline friend love to explore? Treat them to an exciting adventure at the Commonwealth Avenue Mall, where they can investigate the sights, sounds, and smells of the city. 🐱
Looking to beat the heat? Visit the Fresh Pond Reservation in Cambridge, where your pup can cool off with a dip in the designated dog swimming area. 🏞️ #FreshPond #DogSwimTime
Escape the city bustle and take a hike with your furry pal at the Middlesex Fells Reservation. With miles of trails to explore, it's a nature lover's paradise. 🌳 #MiddlesexFells #HikingWithPets
Visit the iconic Boston Common and let your pup enjoy some playtime in the designated off-leash area. It's the perfect spot for a game of frisbee or catch. 🏙️ #BostonCommon #OffLeashFun
Does your furry friend have a nose for adventure? Visit the Arnold Arboretum, where you can enjoy a leisurely walk surrounded by beautiful trees and blossoms. 🌳#ArnoldArboretum #NatureWalks
Looking for some retail therapy with your pet? Newbury Street is a pet-friendly haven with many shops and boutiques that welcome your furry companion. Don't forget it is pedestrian-only every Sunday until October 15th 🛍️ #NewburyStreet #RetailTherapy
Discover the vibrant SoWa Open Market with your furry friend. This pet-friendly market offers food, art, and live entertainment, creating a lively atmosphere for all. 🎨 #SoWaOpenMarket #PetFriendlyVibes
Walk around the beautiful Belle Isle March, discover unique plants and flowers as you walk to the Observation Tower #BelleIsleMarch
Nahant Dog Beach. Cordoned off the main Nahant Beach, this is the perfect place to take some sand and surf #nahantbeach
Kayaks in the Charles River? Bring your four legged friend! If you don't have a life vest, they have a small selection or stop by our store to check ours #dogskayaktoo
Looking for a drink or dessert?
Effective June 1, the City of Boston has a special variance in place for approved businesses to welcome leashed dogs in outdoor spaces. Boston area restaurants and beer gardens with outdoor spaces can apply for the permit. Check here for a list of places that have dog friendly outdoor spaces. We recommend to call ahead to double check.
Remember always to follow local leash laws and be considerate of other park-goers. MBTA trains and ferries are dog friendly so there's no excuse not to go out!
Have a pawsitively amazing time exploring these dog-friendly gems in Boston and surrounding towns! 🐾❤️ #DogLife #ExploringWithPets"